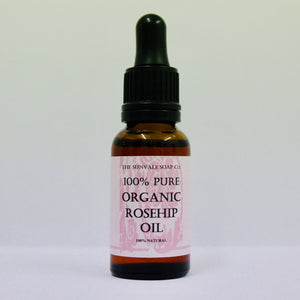 Just 100% pure, Organic* , cold pressed, Rosehip oil. Light, hydrating, anti-inflammatory, rich in essential fatty acids, omega 6 and omega 3, which aid tissue regeneration, fight signs of aging, photoaging and skin pigmentation as well as reducing fine lines, wrinkles, scars and stretch marks. It is also high in vitamin C, E, D and B-carotene, a form of vitamin A, all anti-oxidants that help fight free radicals.
Ideal used as a light, natural facial serum and moisturiser under make up.
Suitable for all skin types.
Apply a few drops to freshly cleansed face and neck. Preferable twice daily.
Recyclable 20ml amber glass bottle with pipette.
*IE-.ORG-03