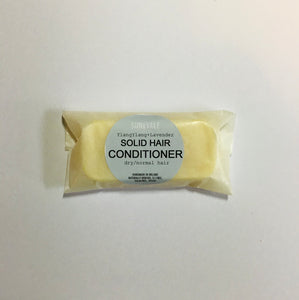 For dry and normal hair. Eco friendly, vegan, concentrated, solid hair conditioner bars in bio degradable/compostable packaging.
Made with gentle plant derived conditioners, jojoba oil, coconut oil, cocoa butter, with Irish horsetail oil, rich in minerals and vitamin rich, moisturising avocado oil, panthenol to improve elasticity and moisture retention and plant keratin, which leaves hair feeling smooth. Essential oil blend of geranium, lemon, may chang and benzoin.
To use our conditioner bars simply glide warmed bar along freshly washed hair, and leave to absorb for a few minutes, these bars are very concentrated, so a little goes a long way. Alternatively you can rub the bar between your hands and then transfer onto hair. Rinse thoroughly.
Bars are approximately 50grams each SLS and paraben free.