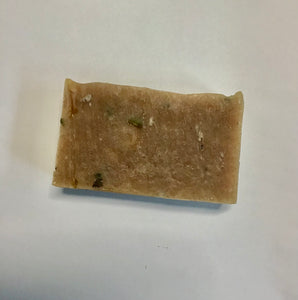 Natural, deep cleansing and gently exfoliating handmade olive oil  Irish soap bar, made with carrageenan infused Irish spring water coco butter, shea butter with mineral rich carrageen seaweed and  Atlantic kelp.
palm free and vegan.
These are hand cut soap bars, so weights are approximately 100grams.
biodegradable paper wrap
Made with - carrageen infused Irish spring water, olive oil, coconut oil, cocoa butter, shea butter, soya wax, pure essential oils of lemon, lavender, rosemary,    may chang,  and patchouli, Irish carrageen, Atlantic kelp, Irish yarrow oil, arrowroot, vitamin e, and rosemary extract.