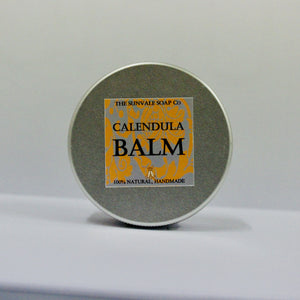 A soothing, anti-bacterial healing balm, made with a blend of botanical oils,that can be used for a multitude of uses! With our own Irish Calendula Oil to soothe, St Johns Wort for redness and calming and a cooling Lavender Oil. Can be used as a lip balm, for wind burn, chapped skin, dry skin, as a barrier cream, taming eyebrows and flyaway hair, nappy rash, sore noses, coldsores etc.
Contains Lavender, Roman Chamomile, Cedarwood, Rosemary, Benzoin, Sweet Orange, Patchouli, May Chang and Myrrh essential Oils.
Apply when and where needed.
A completely natural, beeswax based balm, handmade in small batches.
30ml Recyclable tin.