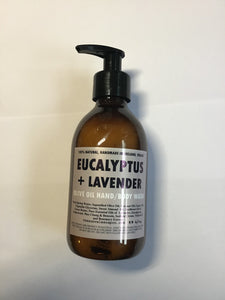 100% natural, handmade in Ireland, antibacterial olive oil hand and  body wash.
This gentle, moisturising hand and body wash is made with olive oil, coconut oil, sweet almond oil and coco butter with added vegetable glycerine and pure essential oils of eucalyptus, lavender, may chang and cedarwood.
Refill pouches available.
Recyclable, refillable, b-pet, pump top bottle. 250 ml.
Preservative free.
irish spring water, Saponified olive oil, coconut oil, vegetable glycerine, sweet almond oil, sunflower oil and cocoa butter, pure essential oils of lavender, eucalyptus, cedar wood, may chang, and benzoin, sodium citrate, vitamin e and rosemary extract.