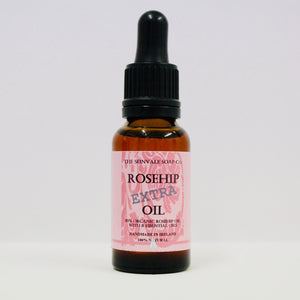 A light, 100% natural facial serum that is 85% pure  Organic, cold pressed, Rosehip oil*,  rich in vitamins, anti-oxidants and omegas to reduce and fight the signs of aging and pigmentation combined with our own homegrown and made Irish calendula oil. Calendula oil is renowned for its healing and unique anti-oxidant compounds. Also contains Borage seed oil, rich in essential fatty acid gamma linolenic, vitamin rich wheatgerm oil which improves skin elasticity and added vitamin E oil. Our essential oil blend is a mix of skin enhancing of lavender, geranium, chamomile, ylang-ylang, bergamot, neroli, sweet fennel and benzoin.
Ideal to use as a natural facial serum and moisturiser under make up.
Handmade in small batches without any chemical preservatives or fragrances.
Suitable for all skin types.
Apply a few drops to freshly cleansed face and neck, preferably twice daily.
Recyclable 20ml amber glass bottle with pipette.
*IE-.ORG-03